For a while, Microsoft pushed the Lync Room System as the go-to product when designing your meeting room to use with Lync / Skype for Business. Those systems created an integrated experience to bring Lync or Skype for Business to the meeting room. Those room systems are not an actual Microsoft product, but were 3rd-party solutions based on the guidelines provided by Microsoft.
With the announcement of Windows 10, Microsoft anounced a new product to be used on the workfloor or in the meeting room: the Surface Hub.
The Surface hub is more than a huge Surface tablet: it's a computer fit into a large touchscreen. There are two different sizes: a 55-inch display housing an Intel Core i5 and a 84-inch one built around an intel Core i7 and a special nVidia graphics chip.
The big screens enable user to colleborate more efficiently on project or have a remote meeting with colleagues or external participants.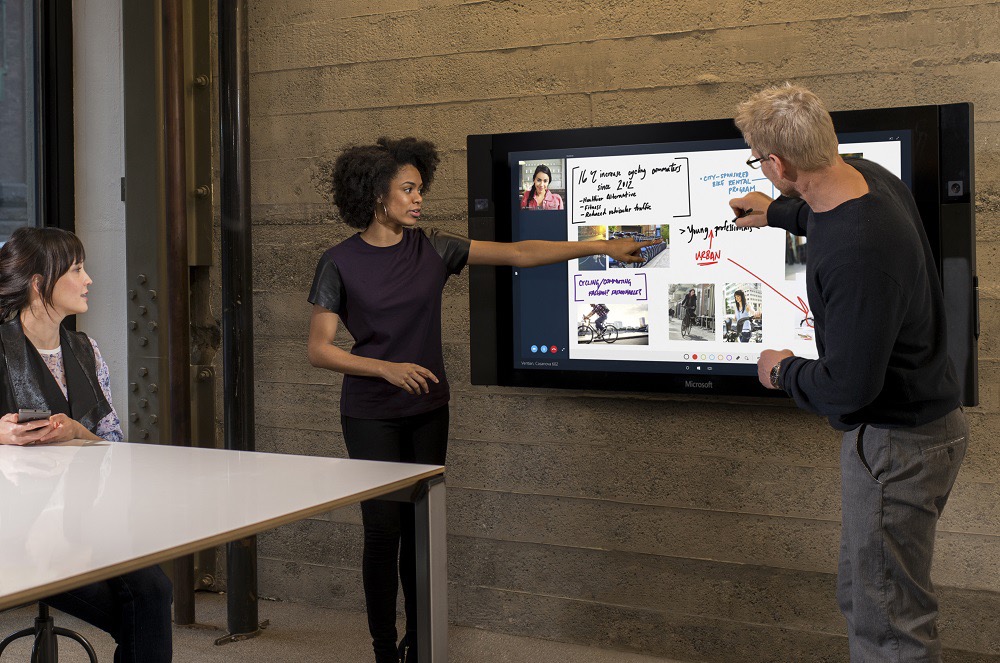 The Surface hub wil play nice with your meeting room. Once you enter the room, all you have to do is activate the device and all participants can connect. In a session, you can simply set up a Skype for Business meeting, collaborate on Office documents or share images or 3D models. All files shared during a session using Office, OneNote or other Windows Universal apps are combined and sent to the participants after the meeting if you choose to do so.
The price for the Surface hub Is fairly high, but does beat most Lync Room Systems. The 'small' 55-inch version is sold for around 7869 euros, the large 84-inch one goes for 22.449. The Surface hub is available since July 1st.
You can check out Youtube if you want to see the Surface Hub in action.