Mid January, Microsoft announced the general availability of a new member of the Office 365 family: Microsoft Staffhub.
Staffhub is aimed primarily at deskless workers, like those in retail stores, hotels, restaurants, or service-related industries. These people typically don't have their own desk or office, or even a computer, which makes it hard to keep up with information that might be important for their day-to-day work. Just think about printed workschedules, cluttered bulletin boards with information or the many phone calls or text messages to cover or trade a work shift. Enter StaffHub!
The primary function for StaffHub is to provide managers with an easy way to update, create and manage shift schedules for their team. What used to be a pretty labor-intensive process has become a pretty streamlined one. For employees, all they need is the StaffHub mobile app to access their shift information, including the possibility to easily swap shifts with their co-workers.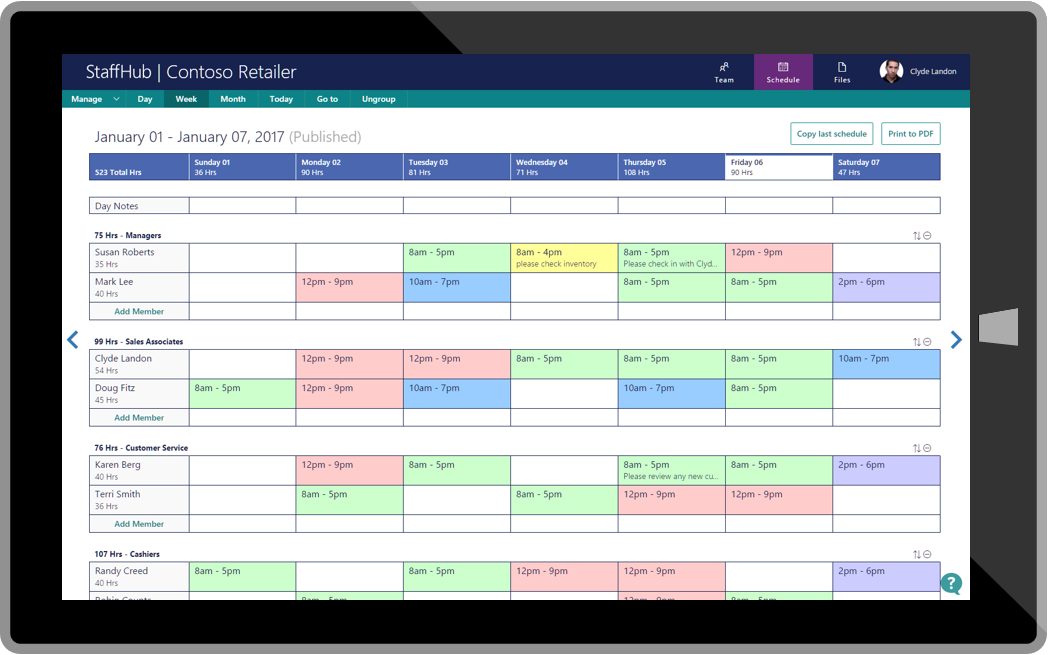 As you can see, the interface for the manager is quite simple. It's an easy way to create, update and manage shifts.
From the mobile app, available on both Android and iOS (yeah, where's the UWP app Microsoft?), the team can easily view their shifts and request to swap a shift with a colleague.
The app's home screen provides a summary of upcoming shifts, as well as any important notes for the workday. Employees can also see who else is scheduled for the day, which is useful if they want to know who they'll be working with or if they want to swap shifts.
When schedule conflicts come up, Microsoft StaffHub makes it easy to swap a shift or offer a shift to someone else. Requests are always routed to the manager for approval, and updates and notifications are automatically sent to the team.
Apart from creating and viewing work shifts, sharing information is another important part of StaffHub. Managers can quickly provide their team with important information, such as policy documents, news bulletins or videos.

For the team, this information is available directly from the mobile app.
Managers also have a fast and reliable way to send quick messages to team members. For example, to let an employee know "there is a spill on the floor" or "the VIP guest is arriving in 20 minutes," simply tap the employee's name and type a message. Employees can also send messages directly to each other or to the entire workgroup.
With all this functionality, StaffHub can be a great way to keep you deskless team up to date with current work schedules and information, from their own smartphone. No need for duct-tape to hang your announcements on the canteen wall!
On introduction, Microsoft announced that StaffHub can be integrated with existing systems. To start off with, you can connect StaffHub with Kronos, a leading provider of workforce management and human capital management cloud solutions. Initially, this integration will enable managers to import individual and team schedule information from Kronos's Workforce Central platform directly into Microsoft StaffHub. This functionality will initially be in private preview to a small group of Office 365 and Kronos customers. Other connections are expected to arrive in the future.
Want to try it out? StaffHub is enabled directly for Office 365 customers with a K1, E1, E3 or E5 plan.
Team managers can sign in at staffhub.ms, and employees can download the app on iOS or Android.
Want more info? Check out the introduction video from Microsoft Mechanics on YouTube.