One of the highest scoring devices when it comes to coolness, at least in my humble opinion, are Lync Room Systems.
These are ready-to-go devices to bring the Lync, or should I say Skype for Business, meeting experience to your meeting- or board room. The big downside of these however, is the price. Especially if you invested in, for example, a big TV-screen for your meeting room before, you might want to look in to something that allows you to build on those previous investments.
Vytru jumps into this gap with their Lync Room Video System, RVC for short.
The heart of the system is the 'codec'. This is basically a NUC-based PC loaded with the Vytru software. You can attach all your existing devices to this base, be it TV-screens, USB webcams, audio devices, etcetera. This way, you can reuse your existing equipment in your new meeting room setup. The software can be used with a touchscreen device, but if you don't have one of those you can control it using any keyboard and mouse.
You can attach any camera you want, as long as it is connected through USB. This way, you can adjust the set, and with that the price, according to your needs. Setting up a simple system for a small huddle room? Connect any HD monitor-mounted webcam and use a relatively small screen. Going all the way? Use 80" screens and a full HD PTZ-camera like the Logitech CC3000e.
Vytru can be used with a single screen, or in a dual screen setup. When using the dual screen setup, one screen will be used for displaying the video streams, while the other will show the meeting content such as a powerpoint presentation.
And for the good news: while Vytru used to charge an extra licensing fee when using dual screen, they recently dropped that. Dual screens for everyone!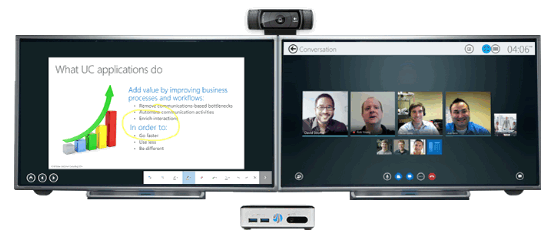 If you want to know more about these systems or want to figure out if it fills your meeting room needs and you live in the Netherlands, feel free to drop me an email and have a chat.