For those of you that don't know IFTT yet: get to know it now! IFTT (that's short for If this, then that) is a cool cloud based service to connect different platforms.
For example, I use it with this blog. IFTT sees when a new blog has been posted, and connects to bit.ly to create a short url for that post. Next, it connects to Twitter to post the (shortened) link to both my personal Twitter-profileand my @365Dude account, as well as my Facebook and LinkedIn-page. Finaly, it connects to my company's Yammer-network to post a link to the article there.
All the connections that IFTT makes, are called 'channels'. There are channels for loads of platforms. Ofcourse there's stuff like Facebook, Dropbox, Gmail and WordPress, but there's also support for things like Philips Hue and the Nest Protect or Nest Thermostat. If you wish, you can change the lighting in your house when you receive an email. Or you could automatically save every photo you upload to Instagram to your Dropbox account.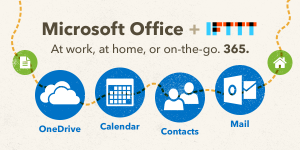 And the possibility of those channels just got expanded a lot: IFTT now supports several channels with your Office 365 account!. The channels currently available in IFTT whith O365 are OneDrive for Business, Mail, Calendar and Contacts. In conjunction with the channels already available in IFTT, the possibilities are endless. For example, you can archive the photos you upload to Facebook in a OneDrive for Business folder. Or you can add a calendar item for tomorrow to bring an umbrella if the weather channels sees the prediction that it's going to rain. If you add a new contact to O365, automaticaly create a reminder for the next week to follow up. And if your Fitbit-channel signals that you've not met your steps goal for today, a calendar item is created to hit the gym by the end of the day.
Can you think of any cool recipes you could build with the O365-support in IFTT? I'd love to hear!